Early Treatment
---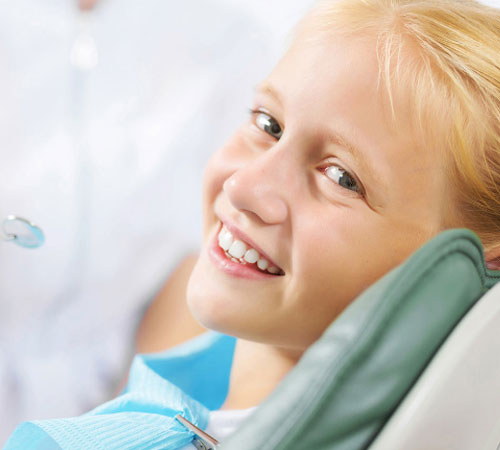 Early orthodontic treatment refers to tactics that dentists can use before permanent teeth come in and the final facial structure of the child is formed. It should be noted that these techniques may still be useful even if some permanent teeth have already come in. The primary goal is to work with your dentist regularly to avoid major procedures or treatments down the line. The more you can preserve your child's oral health today, the less everyone will have to spend in the future.
What Problems Can Be Corrected with Early Treatment?
Early treatment can work on most orthodontic issues, but it's important to note that evaluations must be done on a case-by-case basis. Just because one child's abnormalities can be corrected doesn't mean that the process will be the same for another. If your child has any of the following, though, it's worth exploring what can be done.
Underbites: This condition refers to the lower teeth sitting in front of the upper teeth.
Spacing issues: Whether teeth are crowded together or are far apart, early treatment may be able to help them fit better together.
Growth abnormalities: This can refer to either teeth or jaw growth, and is usually caused by either thumb- or pacifier-sucking.
Some children will inherit certain orthodontic issues, but in other cases, it's due to either accidents or diseases. It may even have to do with your child's swallowing patterns.
How Do Orthodontic Treatments in Columbia, MD Work?
The reality is that these treatments work differently based on who's being treated. It may include appliances (either fixed or removable) that will work to reposition the jaw, move teeth, or hold teeth in place. The dentist may also remove certain baby teeth, which will eventually help permanent teeth come in better later on. If your child is a good candidate for early treatment, the dentist will either map out a plan or periodically monitor your child so they know when treatment will be the most effective.
Find an Orthodontist in Columbia, MD
The right orthodontist will not only help you get the right treatment for your child, they can explain why they're making certain recommendations. With children, it's easy to dismiss certain problems — particularly if baby teeth are going to come out eventually anyway. However, parents who neglect certain issues often end up paying for it down the line. If you want to work with a team who does everything in your child's best interests at heart, the staff at Saini Orthodontics can provide everything you need to make a more informed decision.