Invisalign
---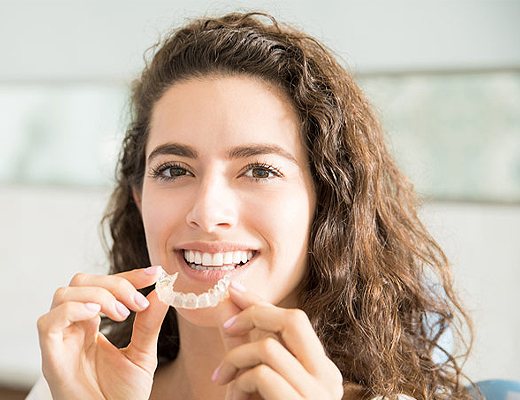 While there are many health goals we look to accomplish in our lives, fixing crooked teeth is one of the most important. A straight, beautiful smile can lead to more confidence, an improved appearance, and fewer dental problems.
If you're searching for dependable orthodontic services in Columbia, MD, Saini Orthodontics is the name you can trust!
Reliable Invisalign Treatment in Columbia, MD
Saini Orthodontics is happy to offer some of the best Invisalign treatment in the industry. With our experienced team and state-of-the-art Invisalign technology, we'll straighten your teeth the right way. We understand how challenging it can be to deal with a crooked smile, so we're here to ease the stress and improve your life! In a matter of months, you can be rewarded with a gorgeous, straight smile.
What is Invisalign?
Invisalign is an orthodontic treatment used to straighten teeth. It involves the use of multiple clear plastic trays that move teeth over time. The patient switches to a new plastic tray every few weeks to progressively move teeth. These clear aligners must be worn at all times except when eating, brushing, or flossing.
How Invisalign Works
The process of getting Invisalign starts with an orthodontic exam. A specialist will review your health history, ask you a few questions, and provide an exam to determine if you're a good candidate for the treatment. If you're a great fit, the next step involves taking a 3D scan of your teeth. This is needed for the lab to create your clear aligner trays. Once your Invisalign aligners arrive, the orthodontic expert will ensure a good fit, and they'll also explain tips for wearing them. You will wear one aligner at a time, then switch to the next one once your teeth have moved appropriately.
Benefits of Invisalign
Invisalign can change your life for the better. Take a look at the advantages of this amazing treatment:
Straighter teeth
More confidence
Greater comfort compared to braces
You can eat normally
You can brush and floss like normal
Fast treatment time
Most patients are in love with the results of their Invisalign treatment! If you're tired of having crooked teeth, this orthodontic solution may be right for you.
Contact Saini Orthodontics Today!
Saini Orthodontics is the place to call for dependable and professional Invisalign treatment in Columbia, MD. With our comfortable office and friendly team members, you'll feel right at home with us.
Here at Saini Orthodontics, we focus on straightening teeth and brightening smiles.
If you want to learn more about our Invisalign treatment, contact us today to get started!
Sources
hewettdds.com